October 31, 2022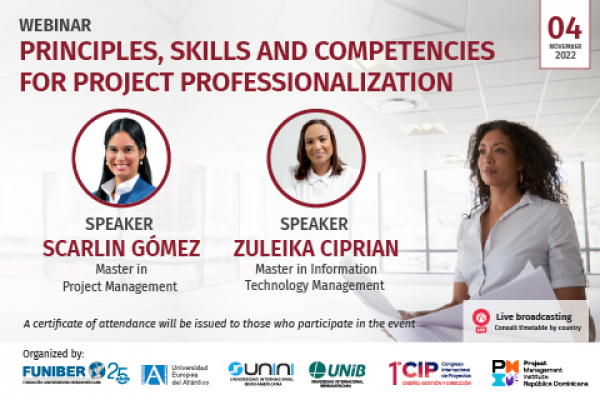 International Iberoamerican University (UNIB) will participate in the webinar "Principles, Skills and Competencies for the Professionalization of Projects", which will be given by Scarlin Gómez Tejada and Zuleika Ciprian, on November 4th at 6:00 p.m. (Puerto Rico).
The webinar is carried out in collaboration with the Iberoamerican University Foundation (FUNIBER )the European University of the Atlantic (UNEATLANTICO)the International Iberoamerican University (UNINI-Mexico) and the Project Management Institute (PMI). As part of the joint activities that have been developed throughout this year between all the institutions involved in the organization of the 1st International Project Congress this webinar offers the opportunity to analyze, with young professionals in the field of projects, the new forms of management, organization, training and development of workers, which promote the rational and efficient use of resources as well as stimulating the creative and intellectual potential of all members of the organization.
The webinar will focus on those skills and trends that, in a professional environment, transform the development and management of projects, bringing the additional value of skills that allow you to be more proficient beyond the basic requirements of a job.
Scarlin Gómez Tejada holds a Master's degree in Project Management and is a certified Project Management Professional (PMP), awarded by the Project Management Institute (PMI). Zuleika Ciprian is an industrial engineer and holds a Master's degree in Information Technology Management and an international certification in Leadership (public speaking and personal and organizational coaching). 
The conference is both free and accessible to all those interested in the topic, and will be streamed on YouTube. A certificate of attendance will be given to those who participate in this event.
To consult the schedules, please, access this link.  Registration is required in order to participate
Webinar registration link "Principles, Skills and Competencies for the Professionalization of Projects"
The registration deadline is 24 hours before the webinar is scheduled to take place.